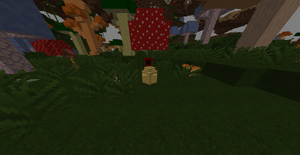 Tarantula Egg
[[File:{{{Image}}}|Tarantula Egg]]

| | |
| --- | --- |
| | |
| Physics | No |
| Transparency | Yes |
| Luminance | No |
| Tool | Pickaxe |
| Renewable | No |
| Stackable | Yes (64) |
| Flammable | No |
| Drops | Itself |
Description
Edit
The Tarantula Egg is, as of the current version, an aesthetic trophy similar to the Enderdragon Egg, granted by defeating a Tarantula Brood Mother in her nest atop a Giant Baobab Tree. Once defeated, the Brood Mother spawns the egg along with a Tarantula Boss Trophy shirt.
It is currently unknown if this or the corresponding Antlion Egg will have purposes or simply be aesthetic achievements.
Ad blocker interference detected!
Wikia is a free-to-use site that makes money from advertising. We have a modified experience for viewers using ad blockers

Wikia is not accessible if you've made further modifications. Remove the custom ad blocker rule(s) and the page will load as expected.