Umbercobble


| | |
| --- | --- |
| | |
| Physics | No |
| Transparency | No |
| Luminance | No |
| Tool | Pickaxe |
| Renewable | No |
| Stackable | Yes (64) |
| Flammable | No |
| Drops | Itself |
| First Appearance | Alpha 0.1 |
Description
Edit
Umbercobble is one of the most useful blocks in the Erebus, like Cobblestone is in the Overworld. It is dropped by Umberstone. Unlike the Overworld's Cobblestone, it is not renewable.
This material is used for quite a few things. You can use it to craft vanilla Stone Tools, and it is also used for the Umberfurnace, an upgraded furnace. 
Thanks to the Forge Ore Dictionary, it can be used in any othermodly machine as if it were regular Cobblestone.
In dungeons (and, in a future update, randomly around the world), you can find Mossy and Webbed Umbercobble. These are good-looking variants of the beloved Umbercobble, but cannot be used for the same things. They are currently only used to craft their own stairs, walls, slabs and Umberpavers.
Webbed Umbercobble slows you down slightly.
Umberpavers
Edit
Umberpaver


| | |
| --- | --- |
| | |
| Physics | No |
| Transparency | No |
| Luminance | No |
| Tool | Pickaxe |
| Renewable | No |
| Stackable | Yes (64) |
| Flammable | No |
| Drops | Itself |
| First Appearance | Alpha 0.1 |
This decorative block is crafted the same way as regular Stone Bricks, but with the respective variant of Umbercobble. Its only use is to look good, and it sure does.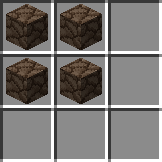 la levels.